Jacqui lost 6lbs in her first 30 days at DMF, here's what she had to say:
"In the last 30 days I have lifted my first ever weights and learnt about how to lose weight without it being a struggle.
Diet – in the sense of learning about food – that it doesn't have to be all this "clean" **** with zero fat and tasting like rubbish, but in fact anything can be eaten / drunk within reason and it is more managing foods; using more filling foods with fibre and lots of protein, eating regularly and not starving oneself .
Moving more is key ! At least 10k steps a day with regular gym sessions that I actually enjoy once there!
A genuinely interesting first month, keen to see what the next month brings"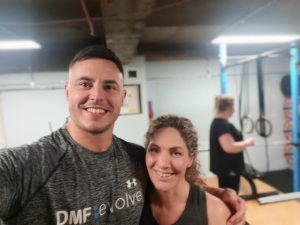 [gravityform id="4″ title="false" description="false"]